OFFERING INVESTMENT
EXCELLENCE
EPC engaged an ESG third party consultant to perform a materiality assessment (GRI/SASB) to understand the ESG key items that matter to EPC and to its stakeholders (e.g. investors, employees, communities, service providers, among others). The materiality assessment will be the cornerstone for our ESG policy, which will guide our environmental, social and governance efforts in 2021 and beyond.
We look for properties where we can invest our energy and passion to turn them into quality living homes. With residents as our main focus, we emphasize on customer service and resident retention based on our unique understanding of and commitment to our target market.
• Property renovation and improvement. We improve the property amenities to provide our residents with better live and play spaces (e.g. unit interior upgrades, outdoor kitchens, fitness centers, dog parks, business centers, among others).
• Set community rules and standards that result in a respectful and caring environment for all residents.
• On-site social programs, such as English language and basic computer classes for adults.
Eagle Property Capital launched EPIC Foundation as the firm's institutional channel for the execution of its social impact initiatives. The foundation comes to life through the voluntary donation of resources ( i.e. cash, time, goods, services) from EPC's team members, investors, partners, and third party donors.
EPIC Foundation has two different programs: "A Healthy Brighter Future", which focuses on medical treatment for children and young adults with chronic diseases, and "Impact Entrepreneurs", which mentors and empowers young local entrepreneurs working on innovative projects with a social impact in their communities.
EPIC Foundation Impact Story "Rigo"
When EPIC first heard about Rigo's case, he was in the terminal phase of a progressive deteriorating disorder called Duchenne Muscular Dystrophy, a terrible disease he suffered since he was 6 years old. The COVID 19 crisis and the consequent overwhelm of public hospitals limited Rigo's access to medical treatment and his health was quickly deteriorating.
EPIC stepped in, paid his treatment at one of Mexico's top private hospitals, and covered expenses related to medicines and equipment.
Besides reducing the financial burden of his health expenses, it was important for EPIC to create small moments of joy for him and his family through presents (i.e.. a tablet, reclining sofa, his favorite soccer team jersey) and encouragement from people he admired (the head coach of his favorite soccer team "Club America").
While Rigo's journey may have ended, his example of bravery and strength remains with EPIC and in the heart of all of those who were fortunate to meet him.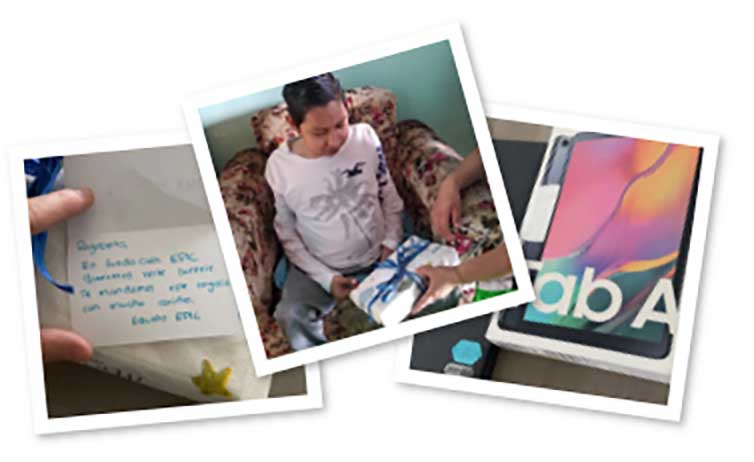 • EPC is a niche player specialized in targeting moderate-income households catering to predominantly, but not exclusively, the Hispanic market. EPC understands and cherishes the Hispanic culture, every member of our team is Hispanic or has worked in the Hispanic market for several years. However, we are an equal opportunity employer and landlord.
• We do not discriminate against any person based on race, color, religion, sex, familiar status or national origin. As a result, we have been successful in creating culturally-mixed communities with a strong component of Asian and Hispanic residents.
Our mission is to provide superb service and unparalleled living standards at an affordable price, providing more sustainable and resilient living options to middle-income families (e.g. energy and water efficiency and waste management).
• EPC has designed a knowledge platform accessible to all employees (Vidalta University), focused on developing and improving asset management and operating skills. Content includes videos, roadmaps, infographics and cheat sheets.
• EPC offers periodic training sessions focused on developing mindfulness and meditation skills available for all employees. The goal: Develop the best version of ourselves.
The real estate industry has been a lagger in terms of Diversity, Equity, and Inclusion. Today, it's still challenging to find real estate investment firms whose management is led by a more diverse set of people.
At Eagle Property Capital we embrace our Latinx heritage, and we welcome into our team people from different races, religions, sexual orientations, and nationalities. We truly believe diversity makes us stronger and sets us apart from other players in the market. The same goes with our communities, where we want everyone to feel safe and welcomed.
Women have played a key role in our firm since its beginning, and we are proud to have talented, experienced, and successful women leading many of our firm's core departments including Investments, Legal, Finance, and Human Resources.